As a professional housecleaning service in the Kernersville NC area we have learned a few things over the years when it comes to thorough and detailed cleaning. There is a sense of accomplishment when you take the time to thoroughly and methodically clean your home, making it more enjoyable both for you and those that live there with you. However, even a thoroughly cleaned home, without the expertly trained eye, can often miss a few critical places that should be cleaned regularly to help control bacteria and keep unwanted pests away.
This article we will focus primarily in the kitchen looking at a few of areas that should be cleaned, but are seldom thought about.
The Stove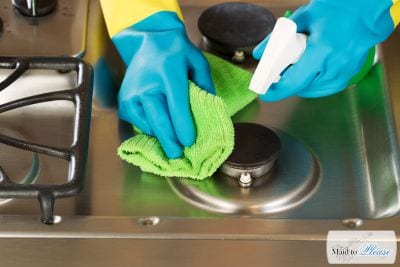 The kitchen for your Kernersville area home is not only the most widely used room in your home, but is also the one that has the greatest potential to get dirty. It is common, after cooking, to wipe down the stove from spills and even run the oven through a cleaning cycle however; this might not be enough. For those electric and gas stove tops that utilize a burners and pans, surface cleaning is only the tip of the iceberg. Under each burner pan under is an area known as the drip pan, (usually made with a nonstick surface covering) because it is out of sight it is easily forgotten when it comes to cleaning.
To clean this area will require some minor disassembly of the coils, pans or burners to access the stove top area that generally swings upward like the hood of your car. For general cleaning soap and water will do just fine; however, if you've not clean this area in a while, more aggressive cleaning chemicals may be necessary. Left unattended this area can invite bacteria and insects plus the unpleasant odors that burnt on foods can produce.
Another area often missed around the stove is the sides of the stove, generally inaccessible without moving the stove. Some stoves can be pretty heavy so make sure you get some help to move the stove out to make it accessible for appropriate cleaning. While you have it out, be sure to clean the sides of the cabinets and floors as well. Naturally these are areas that are targeted by a professional house cleaning service such as Maid to Please serving the Kernersville NC area.
Above the Stove and Cabinets
For many homes in the Kernersville area you have a microwave, cabinets and a smoke hood directly above the stove. Because above eye level is generally out of sight, they can often get missed in general cleaning. When cooking, especially dishes cooked in cooking oil, the smoke from these dishes will rise and condensate on top and sides of surfaces such as the hood, microwave and cabinet faces.
cleaned regularly this sticky mess can be cleaned with soap and warm water however, if you've not clean these areas in a while it may require a grease cutting solution to get the area clean. Because of vents and crevices an occasional brush may be needed as well.
Trust Your Local Home Cleaning and Organization Professionals – Call Maid to Please Today! – (336) 749-6009
The Sides of the Refrigerator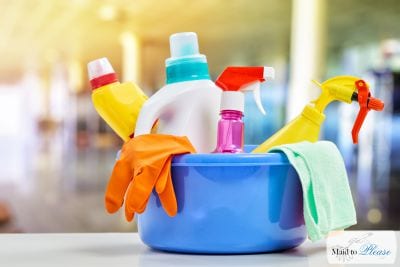 Like the stove the refrigerator can, over time, see some spills and mess accumulate on the sides that can be missed in general cleaning. To help keep unwanted insects and bacteria away occasional cleaning of the size of your refrigerator will help keep your kitchen super clean.
Unlike the stove, many refrigerators have wheels making it very easy to move out for cleaning however be sure to use caution that you've cleared off the top of the refrigerator before attempting to clean.
Small appliances
As a professional housecleaning service in the Kernersville area often we are amazed when we come into a home that seems to be well-maintained and clean, but then see many of the small appliances that are in the cabinets filthy. Small appliances such as blenders, food processors, meet slicers, toasters and more can get pretty messy, pretty quick. Unfortunately, the shape of many small appliances makes it difficult to easily clean; so you need to get creative with brushes and cleaning tools to make sure they are clean and ready to work.
Many small appliances have a manual that comes with them that contains instructions for appropriate care and cleaning, it would be a good idea to take a few moments to read up on the manufacturer's guidelines to keep your small appliances clean and in good working order.
Naturally these are areas that are targeted by a professional house cleaning service such as Maid to Please serving the Kernersville NC area.
Your Trusted Local Source
Maid to Please is your local choice for quality home and commercial cleaning services. We are a professional cleaning service with a methodical approach to cleaning and customer satisfaction.
We empower our team to take that extra step to perfection with every home cleaning service. You'll never find any pushy salesman trying to sell you a Home cleaning service you don't want; the owner personally handles the initial assessment, making sure that all questions are answered. We've heard the nightmare stories from other home cleaning companies in the Winston-Salem NC, High Point NC, Greensboro NC and the Oak Ridge areas and we don't just want to say we're different… we want to show you!
Useful Links
Check Out Our Testimonials – Click Here
Get a Quote for Professional Cleaning Services – Click Here