Construction Clean-up Services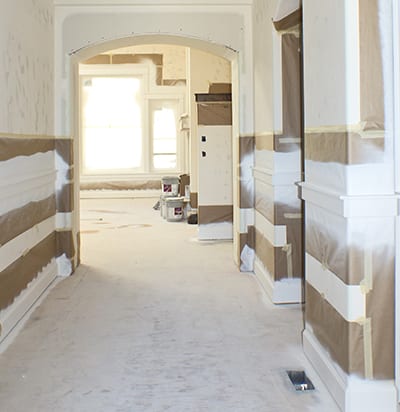 There's nothing like coming home after you've had construction or remodeling work done to your home; the crisp lines, the smell of fresh paint, the mess to clean up… The mess to clean up?!?  
Contractors Leave a mess…
Most contractors serving Kernersville, Greensboro and surrounding areas leave the mess for the homeowners to clean up. Whether it's dust saturation, plaster splattered all over, drop cloths, waded up tape, buckets … home-improvement companies are not well known for their ability to clean up after themselves. This is where Maid to Please serving Kernersville, Greensboro and surrounding areas can really shine. Before the first paint stroke is laid give us a call; we can get the cleanup of your home scheduled in so that you can get your life back to normal as quickly as possible after your construction project is finished.
Whether it's an outside construction cleanup such as masonry and roofing or interior remodel such as painting or a room addition our after construction cleanup can make everything just right after your home-improvement is complete.
The Little Things
One thing that is often missed in construction cleanup is dust saturation. Any time that plaster or drywall sanding is done a fine mist of powder infiltrates the appliances such as the air-conditioning, refrigerator vents, stove and especially ceiling and vent fans. This dust left unattended can act as a catalyst to build upon especially in areas of high moisture. A quick call to Maid to Please allows us to get in and get cleaning before the dust begins to accumulate into a larger problem. We know dust saturation builds up fast so we work hard to clean every little crevice to make sure that everything is super clean after your remodeling project.
Attention Construction Companies!
Tired of having your customers complain about the construction mess left behind? Why not contract Maid to Please construction cleanup services to go in during and after your remodeling project to make sure that everything is pristine when you finish your remodeling project. With us working hand in hand with your contractors will be able to determine how much cleanup will be needed based off of the type of construction service that you're providing. Depending on the size and length of the construction project we can go in and provide ongoing cleaning services to help free up clutter for your employees as well as make the in cleaning services easier.
Not Your Ordinary Cleaning Service
At Maid to Please we actually love what we do! Our methodical approach to cleaning in Maid to Please is what is set us apart from our competition since 1993. Our empowered team is prepared to take the extra step to achieve perfection on each and every service that we provide. You'll never find any pushy salesman trying to sell you home cleaning services; the owner personally handles all the initial assessments making sure that all questions are answered. Call today and see the Made to Please difference!
Our Construction Cleaning Philosophy
Our customer focused approach to our construction cleaning service is simple: the customer comes first. As a independently owned and operated house cleaning and construction clean-up service we can provide detail oriented attention to each of our customers concerns. Unlike a large franchised home cleaning service where you call into a call center; our customer focused mindset naturally is grounded in the fact that we are local. Using a locally owned and operated construction clean-up service means that our community focus is on:
Accountability

Individualized attention

Superior response time

A valued relationship with each customer to understand unique opportunities available within each individualized service we provide.
Call us today to get your construction clean-up service scheduled or Click Here to contact us today!