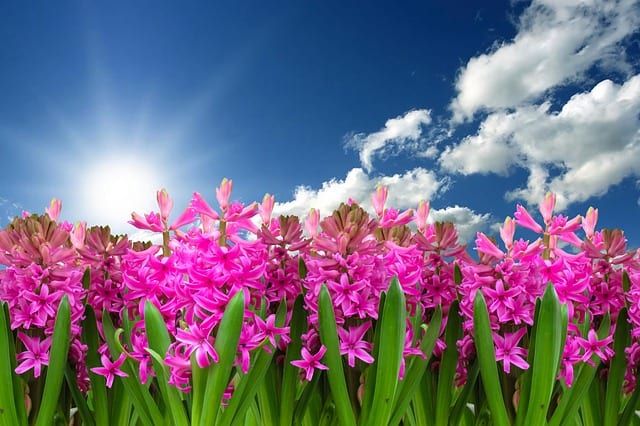 Spring is in the air here in Kernersville NC and while this means the return of warmer weather, birds chirping back and flowers blooming… It also means the return of allergy season. While the cooler winter temperatures meant a refreshing savings on the air conditioning bill, springtime marks the time when the need for it is just around the corner.
As part of your "spring cleaning" you need to note that your air conditioner can help you to control allergens such as pet dander, dust mites, mold and insect droppings.
When you dust, use forced air (A/C) or even plop down on the furniture, these dirt and allergens are made airborne. Without a good filtration system on your Air Conditioner, these will simple settle back down on the floor, wall and furniture.
Check out these useful spring cleaning tips from Maid to Please in Kernersville NC to help make your home I haven from common allergens.
HVAC Spring Cleaning Tips for Kernersville NC
How your A/C works
Your HVAC system draws air through the return vent which funnels the air through a filter. This filtered air is then temperature conditioned to be circulated throughout the home. Whether you are using the heat, cooling or just the fan; the circulation of air volume remains the same within a central heat and air conditioning system. While there are other types of air conditioning systems that your home may use, this forced air recirculation principle is by far the most popular and commonly used in Kernersville NC homes.
This system of air filtration is what help reduce those aggravating allergens that are flying around in your Kernersville NC home. As you get into spring cleaning, you will be disturbing settled dust particles that contain allergens such as pet dander, dust mites, mold and insect droppings; your A/C can help filter those out.
Trust Your Local Home Cleaning and Organization Professionals – Call Maid to Please Today! – (336) 749-6009
How can I use the A/C to get my house cleaner?
Use higher quality filters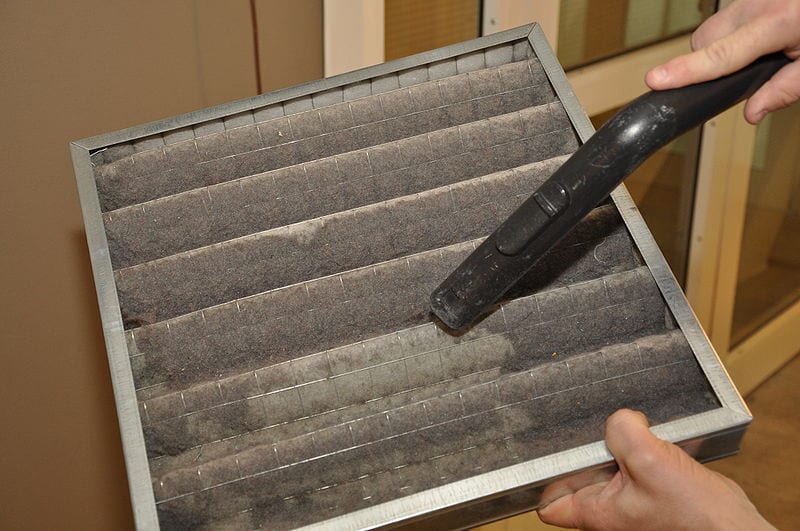 Fiberglass filters are inexpensive and are recommended to be replaced once a month. These types of common filters only capture large particles of dust. Microscopic dust particles flow easily through these filters, making them ineffective to capture and remove the allergens commonly found in the Kernersville NC area.
Choose an air conditioning filter that has a corrugated surface. This corrugation effectively increases the surface area, along with a tighter weave, to capture more allergens. Also available are electrostatic filters that capture even more dust and allergens for your Kernersville NC home.
When choosing filters, do not choose based upon price; but rather based upon function. A few extra dollars can go a long way towards healthier living.
Clean your return and blower vents
For most homes in the Kernersville NC area, the return vent is located on the floor. This vent and vent cavity (which is the box that the filter sits in) can collect a lot of dirt that could be blown through your air conditioning system.
In addition, mold or pollen spores commonly build up in the corners of the cavity which can cause a foul smell. By regularly vacuuming this cavity and cleaning with a cleansing spray, it will help keep the air flowing cleaner.
When dusting, don't forget your furniture
It's easy to think about dust buildup on the coffee table, end tables, lamp shades, picture frames and counters; but don't forget that the same dirt build-up is on your couch, chairs and carpet. To effectively remove dust and allergens from your Kernersville NC home you might use a vacuum cleaner with a HEPA filter, steam cleaner or even go "old-school" taking a tennis racket to hit the cushions. This releases the dust from the furniture cushions so that it can be filtered through the Air Conditioner
Your Trusted Local Source Working Hard For You!
Maid to Please is your local choice for quality home and commercial cleaning services. We are a professional cleaning service with a methodical approach to cleaning and customer satisfaction.
We empower our team to take that extra step to perfection with every home cleaning service. You'll never find any pushy salesman trying to sell you a Home cleaning service you don't want; the owner personally handles the initial assessment, making sure that all questions are answered. We've heard the nightmare stories from other home cleaning companies in the Winston-Salem NC, High Point NC, Greensboro NC and the Oak Ridge areas and we don't just want to say we're different… we want to show you!
Useful Links
Check Out Our Testimonials – Click Here
Get a Quote for Professional Cleaning Services – Click Here